Composting and wormfarming are different ways of breaking down and recycling your food scraps into healthy soil. One method will suit you best, depending on your home and garden situation.
Follow our tutorials on Composting and Worm Farming to begin your journey to reducing waste. Once you have completed each tutorial, take the quiz to test your knowledge.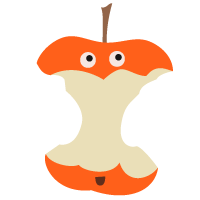 In a compost bin, microorganisms break down your waste and create heat. A compost bin can handle more food waste than a worm farm. You will need an outdoor space and garden cuttings to mix in with your food waste.
Composting suits if you
Have garden waste
Have space on bare earth for the bin
Produce a lot of food waste
Benefits of composting
Some food waste that can't be used in worm farms
can be composted, such as garlic, onion and citrus
Garden waste can be composted
Larger volumes of material can be composted
Worms will eat most of your food waste and turn it into a high-quality fertiliser. Worm farms work well for apartments and small households. Worm farms don't smell, they don't take up much room and can be kept indoors.
Wormfarming suits if you
Don't have any garden waste
Don't produce a lot of food waste
Don't have space or access to bare earth for a compost bin
Benefits of Worm farming
Worm wee is a great liquid fertiliser
You can keep your worm farm in a courtyard, on a balcony or even indoors
You don't need garden waste